Rick Straka, Finance and Administration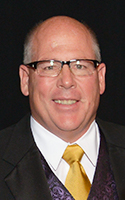 Rick Straka is the Vice President for Finance and Administration. He serves as the Chief Financial Officer with overall responsibility for leadership and coordination of the fiscal and physical operation of the university, including budget, business services, facilities services, student financial services, environmental health and safety, contracts, capital construction and intercollegiate athletics. Rick has been with the university in this capacity since July 2006.
Background
Prior to this Rick was the Vice President of Finance and Operations at South Central College in North Mankato and was previously employed at Minnesota State University, Mankato as the budget officer and coordinator of athletic management and finance.
Rick graduated from Gustavus Adolphus College in St. Peter with a major in accounting, has completed his MBA at Minnesota State, Mankato and holds an inactive CPA license.
Activities
Rick has actively been involved with Society for College and University Planning, United Way Board of Directors, YMCA Board of Directors, Greater Mankato Chamber of Commerce, Leadership Mankato Area, Junior Great Books and Mankato Area Youth Sports and the Blandin Rural Leadership Program.