Henry Morris, Diversity, Equity & Inclusion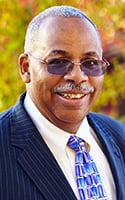 Henry Morris is the Vice President of the office of Diversity, Equity & Inclusion at Minnesota State University, Mankato. As the Chief Diversity Officer, he provides leadership for the development and implementation of university-wide diversity policies, practices and initiatives including programs for at-risk students. He also provides leadership to the staff and programs of the Women's Center, LGBT Center, Multi-Cultural Center, and the Opportunity, Access, Success- Intercultural Services Center. Finally, he provides overall leadership to major diversity/cultural programs and diversity enrollment management initiatives and represents the University in system-wide and community decision-making/strategic planning endeavors related to institutional diversity issues; and works collaboratively with academic departments, student affairs departments, and financial departments.
Achievements
Dr. Morris has served on many University and community committees and boards. In addition to serving on community boards, he has also served in numerous leadership positions in the State of Minnesota and the Greater Mankato Area (e.g. Chair of the Greater Mankato United Way Board of Directors, executive positions of the Mankato, YMCA, Girl Scouts, and Boy Scouts) and he is a former member of the Minnesota Combined Charites Board. In his many University and community positions, Dr. Morris has been and continues to be a voice for access and inclusion.
Background
Prior to joining Mankato, Henry worked at William Paterson University and the University of Pittsburgh. Dr. Morris earned his Bachelor of Arts at Hamilton College, his Master of Arts at the University of Rhode Island, and his Doctor of Education at The University of St. Mary's of Minnesota. He has also earned other leadership certificates.