Dr. Robert P. Fleischman, Strategic Partnerships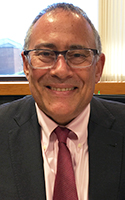 Dr. Robert P. (Bobby) Fleischman serves as Associate Vice-President for Strategic Partnerships at Minnesota State University, Mankato. He assumed his present role in October 2018, after having previously served as Associate Provost for Academic Affairs (July 2015 to present). Dr. Fleischman's work includes, but is not limited to, regional and global for profit and non-profit business partnerships, as well as community and system-wide partnerships. He is currently serving as the university's legislative liaison and actively participates in all aspects of university administration. Dr. Fleischman has been involved in developing external partnerships, including agreements that bring opportunities for student experiential learning, internships, international exchanges, faculty-led study away and study abroad, as well as business development.
Achievements
In addition to having taught as a full-time faculty member for 21 years, Dr. Fleischman has served in a series of administrative positions including both Dean of the College of Business and Management, and as Department Chair at East Stroudsburg University (PA). Prior to joining East Stroudsburg University, Dr. Fleischman was a lecturer in Sport Law and Marketing at the University of Massachusetts/Amherst.
During his career, he has practiced law as a partner in a New York City law firm, specializing in sport and education law. He is currently licensed to practice law in both the State of New York and Commonwealth of Pennsylvania. During his career, he has consulted numerous organizations on legal matters related to higher education, sports business, and entertainment. He has held committee memberships with both the New York and Pennsylvania Bar Associations on Higher Education, Sports and Entertainment.
Per his commitment to serving the community, Dr. Fleischman has been an active member of numerous organizations including the Twin Rivers Council on the Arts (TRCA), Mankato Sports Commission, the Big Brothers/Big Sisters, Pocono Mountain Vacation Bureau Action Sports Committee, Delaware Water Gap Planning Commission, Poconos Area Chamber of Commerce Transportation Committee, Greater Mankato Growth, Stroudsburg Area United Youth Soccer, and Diversity Commission of Mankato's "Time to Talk" program.
Background
Dr. Fleischman received a Doctorate of Education from Binghamton University in Educational Theory and Practice, a Master's of Science in Sport Management from the University of Massachusetts/Amherst, a Juris Doctorate from Hofstra University School of Law, and a Bachelor of Science in Political Science, with concentrations in Organizational Psychology and Communications from the University of Michigan/Ann Arbor.