Dr. David P. Jones, Student Affairs and Enrollment Management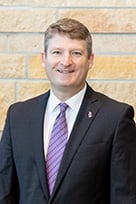 David Jones is the Vice President for Student Affairs and Enrollment Management at Minnesota State University, Mankato. As the chief student affairs officer, Dr. Jones is responsible for managing enrollment growth and providing excellent student services including campus housing, campus recreation, career services, counseling, student health, student union, university security, university admissions, and New Student and Family Programs for the University.
Achievements
With more than 27 years of student affairs experience, Dr. Jones has been an active leader in the housing field as a past president of the Southeastern Association of Housing Officers, an editorial board member of The Journal of College and University Student Housing, and co-authored a chapter for the book, Building a Culture of Evidence in Student Affairs: A Guide for Leaders and Practitioners. Dr. Jones is currently an editor for the Journal of Learning Spaces. His work with students, in the community, and across higher education has been recognized with various honors including the Minnesota State Student Association, Administrator of the Year, and the Minnesota State System Outstanding Academic and Student Affairs Administrator Award.
Background
Prior to joining Minnesota State Mankato, Dr. Jones worked and taught at the University of Alabama, the University of North Carolina at Chapel Hill, North Carolina State University, North Carolina Central University, The College of William and Mary, and the University of Nebraska at Kearney.
Dr. David Jones is married to Dr. Jennifer B. Jones, a 1992 graduate of Minnesota State University, Mankato and they have two children, Cooper and Riley, and a dog named Bama, which was his wife's idea.