Kent Stanley, University Advancement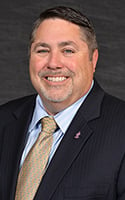 Achievements
During his first 3+ years on the Hilltop, Vice President Kent Stanley has led a culture change in University Advancement that has centered on donor-centric fundraising, eliminating internal silos, enhanced story-telling, and assisting the Foundation Board reach new levels of engagement. His first three years also coincide with the largest three-year fundraising total in University history.
At each stop Stanley has overseen record fundraising growth in annual fund giving, major gifts, and endowments while managing transformational capital projects; from major renovations to new buildings. He has been a creative adopter of the use of technology in donor relations; from video e-mail to digital magazines to photo vaults. An innovative fundraiser he has pioneered "Teams Model" annual funds, created hybrid funds, and developed highly successful donor identification and acquisition tools. Stanley has been personally involved in successful fundraising solicitations of over $150M during his career.
Known as an energetic presenter at some of the industries' premier events including the Council for the Advancement and Support of Education (CASE) national seminars, National Association of Athletic Director's of Development (NACDA & NAADD) Convention, and Paciolan's PACNet, Stanley has also been active at a conference level creating Development Summits in the Big Sky, WAC and Mountain West conferences.
Background
Stanley grew up in a logging town in northern British Columbia, and became the first member of his family to attend college. Stanley earned his undergraduate degree in psychology and physical education from Trinity Western University and graduate degree from Fresno State in athletic administration. He is also a graduate of Harvard's Institute for Education Management. As a multi-sport collegiate student-athlete he was a two-year basketball team captain and the career assist record holder upon graduation. He was recently honored by his alma mater by being included in a hardcover University alumni publication profiling "40 Alumni Who Make a Difference."
Stanley spent the first part of his career as a faculty member and basketball coach. He is a two-time National Coach of the Year leading his 1999 and 2000 women's basketball teams at Oklahoma City University to National Championships. He coached in over 30 countries working with men's and women's pro clubs and national team programs in Europe, Asia, and Africa.
He served from 2006-2008 as the Director of Athletics at Fort Lewis College (CO), an NCAA DII member institution. He began his athletic administration career at NCAA I-AA Eastern Washington University where he was the Associate Athletic Director –Development from 2001-2006.
Prior to MSU he served as Associate Vice President for Advancement – Athletics & Strategic University Initiatives at Utah State University from 2008-2016. He played a pivotal role in the $200M Honoring Tradition, Securing Our Future comprehensive campaign that reached a final total of $513M.
Stanley and his wife Hollie have been married 30+ years and have two children. Zach is a student at MSU, Mankato and Mikayla is a senior at Mankato East High School.